Here are four Monday topics for you to start the week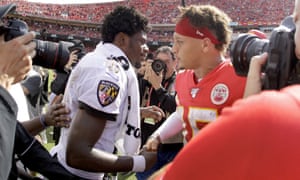 Will we see Jackson-Mahomes III later on this season?
First Quarter: MLB
1. MLB scoreboard
2. AL Wildcard: Athletics +2, Rays, Indians
3. NL Wildcard: Nationals, Brewers, Cubs -4, Mets -4.5, Diamondbacks/Phillies -6
4. MLB Network Monday Night Baseball: Red Sox @ Rays, 6:10 pm
Second Quarter: NFL
1. Best 3-0 team?
2. Worse 0-3 team?
3. Will the Bears offense come to life in Landover, MD?
4. Monday Night Football: Bears (1-1) @ R——- (0-2), 7:15 pm
Third Quarter: College Football
1. Best team in college football after four weeks?
2. Which team took the worst loss week four?
3. Coach on the hot seat?
4. Week five game you're watching?
Fourth Quarter: MLS
1. MLS schedule
2. East Top 7:
1 NYFC 58 pts, 2 Atlanta 54 pts, 3 Philadelphia 52 pts, 4 DC 48 pts, 5 NY Red Bulls 47 pts, 6 Toronto 46 pts, 7 New England 41 – outside the cutline Chicago 38 pts
3. West Top 7:
1 LAFC 65 pts, 2 Seattle 50 pts, 3 Minnesota 49 pts, 4 LA Galaxy 48 pts, 5 Real Salt Laker 47 pts, 6 FC Dallas 45 pts, 7 San Jose 44 pts – outside the cutline Portland 44 pts
4. East standings remain tight, West is a logjam
Overtime: Weekend Links
1. AB to Central Michigan after an odd weekend
2. Megan Rapinoe named top women's player by FIFA
3. Heat looking at another old player in Chris Paul
4. WNBA playoff bracket
Follow me on twitter: @MikeVmos
2019 Posts: 191