Friday's Weekend Primer
Getting you ready for the weekend!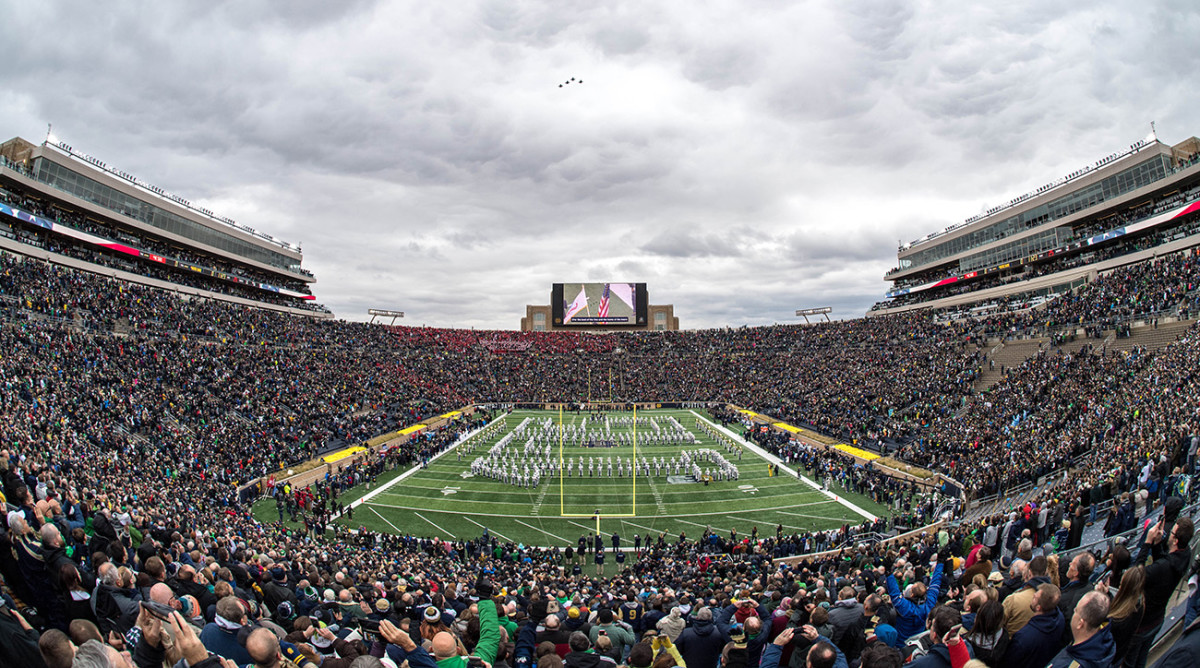 Despite playing a ranked foe, the second longest sellout streak in CFB likely to end Saturday in South Bend ahead of Navy-Notre Dame. Photo by SI
First Quarter: NBA/NHL
1. NBA scoreboard
2. ESPN Friday DH: Jazz @ Grizzlies, 7 pm; Celtics @ Warriors, 9:30 pm
3. NHL scoreboard
4. What match-up are you watching this weekend?
Second Quarter: College Football Week 12
1. College Football scoreboard
2. Friday viewing choices:
Louisiana Tech (8-1, 5-0 CUSA) @ Marshall (6-3, 4-1 CUSA), 6 pm/CBS Sports
Fresno State (4-5, 2-3 MWC) @ San Diego State (7-2, 4-2 MWC), 8:30 pm/ESPN2
3. Saturday viewing choices:
FOX Big Noon: Michigan State (4-5, 2-4 B1G) @ 15 Michigan (7-2, 4-2 B1G), 11 am
Indiana (7-2, 4-2) @ 9 Penn State (8-1, 5-1 B1G), 11 am/ABC
23 Navy (7-1) @ 16 Notre Dame (7-2, 1:30 pm/NBC
Wake Forest (7-2, 3-2 ACC) @ 3 Clemson (10-0, 7-0 ACC), 2:30 pm/ABC
4 Georgia (8-1, 5-1 SEC) @ 12 Auburn (7-2, 4-2 SEC), 2:30 pm/CBS
19 Texas (6-3, 4-2 Big XII) @ Iowa State (5-4, 3-3 Big XII), 2:30 pm/FS1
8 Minnesota (9-0, 6-0 B1G) @ 20 Iowa (6-3, 3-3 B1G), 3 pm/FOX
Wyoming (6-3, 3-2 MWC) @ Utah State (5-4, 4-1 MWC), 3 pm/ESPNU
UCLA (4-5, 4-2 PAC-12) @ 7 Utah (8-1, 5-1 PAC-12), 7 pm/FOX
Arizona (4-5, 2-4 PAC-12) @ 6 Oregon(8-1, 6-0 PAC-12), 9:30 pm/ESPN
4. ABC Saturday Night: 10 Oklahoma (8-1, 5-1 Big XII) @ 13 Baylor (9-0, 6-0 Big XII), 6:30 pm
Third Quarter: NFL Week 11
1. NFL scoreboard
2. Best Early Game Window: Texans (6-3) @ Ravens (7-2), Noon/CBS
3. Best Late Window Game: Patriots (8-1) @ Eagles (5-4), 3:25 pm/CBS
4. NBC Sunday Night Football: Bears (4-5) @ Rams (5-4), 7:20 pm
Fourth Quarter: Weekend Scoreboards
1. Golf leaderboard
2. English Premier League scoreboard
3. Men's College Basketball scoreboard
4. Women's College Basketball scoreboard
Follow me on Twitter @MikeVmos
2019 Posts: 230