The Wednesday Edition
Halfway through the week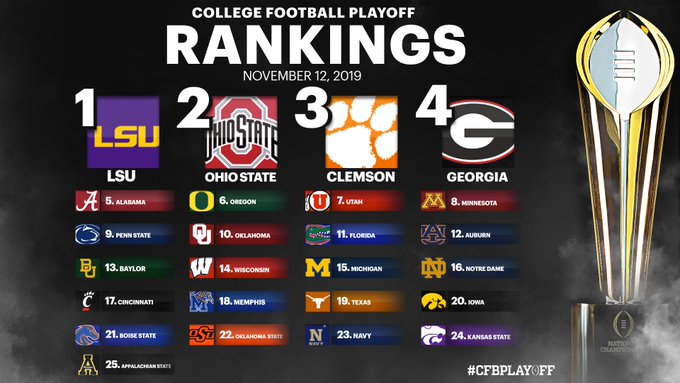 Did week two of the rankings go how you'd expect?
First Quarter: NBA/NHL
1. NBA scoreboard
2. ESPN Wednesday DH: Clippers @ Rockets, 6:30 pm; Warriors @ Lakers, 9 pm
3. NHL scoreboard
4. NBCSN Wednesday Night Hockey DH: Capitals @ Flyers, 6:30 pm; Blackhawks @ Golden Knights, 9 pm
Second Quarter: NFL
1. Tomorrow we've got a AFC north tilt in the Land
2. Will you watch Thursday Night Football?
3. Surprise during week ten?
4. Steeler-Browns just over than 24-hours away
Third Quarter: College Football
1. Gameday will be on the banks of the Bazos
2. Who should be on upset alert?
3. Game that has your attention?
4. Gameday will be in Waco, Texas
Fourth Quarter: Potpourri of Wednesday Links
1. Last night the second CFP rankings were released
2. No. 1 Kentucky upset at Rupp against unranked Evansville
3. Giants have a new manager
4. Astros stealing signs?
Follow me on Twitter @MikeVmos
2019 Posts: 228